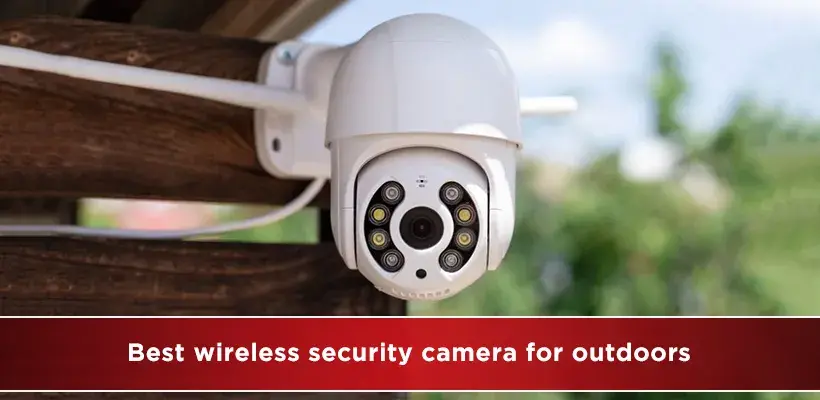 When it comes to finding the best wireless security camera for the outdoors, there are a lot of factors to consider. Camera type, resolution, features, and price are just a few of the things you need to think about when shopping for a security camera. In this blog, we'll look at some of the best wireless security cameras for the outdoors. Whether you're looking for a camera to keep an eye on your property or you need one for surveillance purposes, we've got you covered. So, without further ado, let's look at some of the best outdoor security cameras on the market!
How Do Outdoor Security Cameras Work?
When you're considering adding security cameras to your home, it's important to understand how they work. Outdoor security cameras are different than indoor ones in a few ways, so it's important to know what to look for before you make your purchase. So, let's get started!
What Type of Weather Can Outdoor Security Cameras Handle?
All outdoor security cameras are not created equal. Some are weatherproof and can handle a range of temperatures, while others may only be able to withstand a certain temperature. To choose the best security camera for your needs, you need to understand what type of weather your camera will be exposed to. If you live in an area with extreme weather conditions, you may need to purchase a camera that is specifically designed for those conditions.
For example, if you live in a cold climate, you'll want to buy a camera that is rated for cold weather. Cameras that are rated for cold weather can typically handle temperatures as low as -4 degrees Fahrenheit.
What Resolution Do You Want?
Wireless security camera are becoming increasingly popular due to their convenience and portability. However, one of the most important decisions you'll need to make when purchasing one is what resolution you want. Higher resolutions provide more detail, but they can also require more bandwidth and storage space.
Do You Need Motion and Sound Detection?

If you're like most people, you probably think of a security camera to keep an eye on your property when you're not there. But did you know that security cameras can do much more than just watch? Many newer models include motion and sound detection features that can alert you when something is happening in or around your home. So, do you need motion and sound detection? The answer depends on your needs and what type of camera you choose.
The Best Outdoor Home Security Camera
1. Arlo Pro 4 Spotlight Camera
Arlo Pro 4 Spotlight Camera is the new addition to the Arlo family of smart security cameras. It is a weatherproof, indoor/outdoor camera with built-in night vision and a spotlight that can be turned on manually or set to activate when motion is detected. The camera also has two-way audio and records in 1080p HD resolution.
The Arlo Pro 4 Spotlight Camera is a great addition to your home security system. It's weatherproof and can be used indoors or outdoors, making it perfect for any situation. The built-in night vision ensures you'll be able to see what's going on, even in the dark, while the spotlight allows you to spot intruders from far away.
2. Ring Stick Up Cam Plug-In
If you're like most people, you rely on security cameras to keep your home and property safe. But what happens when you're not home? That's where the Ring Stick Up Cam comes in. This camera can be plugged into an outlet, so you can keep an eye on things even when you're not there. Plus, it has built-in motion detection, so it will start recording as soon as it detects movement. And with night vision and two-way audio, you can see and hear what's going on at all times. So whether you're at home or away, the Ring Stick Up Cam will help keep you safe.
3. EufyCam 2 Pro Wireless
EufyCam 2 Pro Wireless is the latest security camera released by Eufy, an Amazon-owned company. The camera is designed for both indoor and outdoor use and features a 130° wide-angle lens, night vision, two-way audio, and motion detection. It can be easily mounted to walls or ceilings and comes with a free Cloud storage subscription that allows users to store footage for up to seven days. The EufyCam 2 Pro Wireless is available now for $169.99.
4. Wyze Cam v3
In May of 2022, Wyze Labs released the third version of their popular security camera, the Wyze Cam v3. This camera is a significant improvement over its predecessor, with better video quality and more features. Let's take a look at what's new in this version. First, the video quality has been upgraded to 1080p resolution, making it much sharper than the 720p resolution of the v2. The field of view has also been increased from 110 degrees to 120 degrees. Additionally, Wyze has added two-way audio so you can not only see what's happening around your home or office but also talk to whoever is there. And finally, they have built-in motion and sound detection so you can
Choose ADT Security wireless security camera for outdoor with IgotC
When looking for a quality wireless security camera for outdoor to protect your home and family, you need to make sure you choose a reputable company with a proven track record like ADT Security Services. ADT is the perfect choice for homeowners looking for a wireless security camera that can be used outdoors. With over 130 years of experience, ADT is the most trusted name in home security. Plus, IgotC gives you an extra level of services by allowing you to control your camera from anywhere in the world. Don't take chances with your safety - choose ADT today!
Call on (844) 662-0388 & book your appointment to install a wireless security camera for the outdoor now.